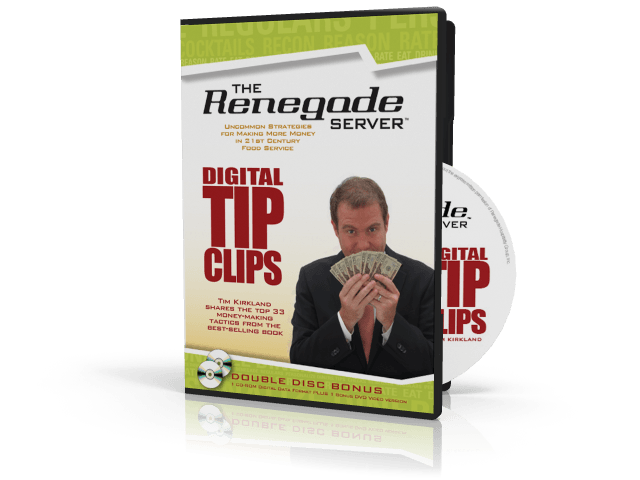 PRODUCT DISCOUNT
Buy 10 and up for $69.00 ea each and save 31%
Buy 20 and up for $59.00 ea each and save 41%
The Renegade Server "Tip Clips"
Email to a Friend
Quick Overview
This dynamic collection of 33 powerful video insights from the best-selling book will help your team to sell more, serve better and make more money.  In digital and video formats for use with DVD players, computers AND even your mobile devices. Save $20 if you order now (and get a free DVD of the program too).
Quantity discounts available:
| 1-9 | 10-19 | 20+ |
| --- | --- | --- |
| $99.00 | $69.00 | $59.00 |
Add to Wishlist
Availability: In stock
SKU: TRS1004
1084 views
Product Description
This impactful digital training tool takes uncommon insights from the best-selling book and brings them directly to the restaurant floor. Comprised of thirty-three, 1- to 4-minute-long digital video clips, this is the mobile training tool that will put the power of The Renegade Server in your team's hands every shift. The CD-ROM features Tim Kirkland communicating the most important parts of the book in both .mp4 and Quick Time file formats so you can train on any computer OR mobile device. PLUS – for a limited time, we are including a second disc formatted in Video DVD for use on the big screen! This set of powerful clips makes an invaluable addition to any restaurant training program. Save $20 if you order now.
Only logged in customers who have purchased this product may leave a review.