The 10 Characteristics of Outstanding Foodservice GMs
Fundamentals, Multiunit Leadership
Most organized sports played at the varsity and professional level, have a head coach who oversees several assistant coaches who focus on specific player roles and responsibilities.
Each coach is responsible for executing a focused part of the game plan. The head coach aligns strategy and tactics to the competitor, team talent and objectives, while the assistant coaches ready their players to execute the parts that achieve the whole. During the game they make adjustments based on prevailing and changing conditions and competition. The analogy is apt; the foodservice General Manager is both Head Coach and player-coach for the junior managers and team members that she or he leads.
Prescription before diagnosis is malpractice
Instead of playing a game of chance, Managers play a game of choice; leading The Shift. To effectively do so, they need a game plan. The best start by assessing and clearly defining what their team already knows, what their team doesn't know, and what their team doesn't know that they don't know. They assess their rookie-to-vet ratio in terms of shift staffing, and they anticipate customer traffic against inventory and readiness.
Once these knowledge gaps are filled, they then assess the strengths, weaknesses, opportunities and threats of their competitors. This analysis gives the Head Coach insight into where the team (or unit) is most vulnerable, and where they are currently strong (for example, sudden high turnover or a backed-up kitchen can destabilize any store that was previously confident.)
Sometimes being strong and knowledgeable and good at what we do can make your stores more vulnerable simply because you believe you are not vulnerable; author Jim Collins warns that "Good can be the enemy of great."
Finally, exemplary Head Coaches closely examine the dependencies of their company, team and marketplace, and always consider contingency plans should any of those dependencies tip,  unexpectedly affecting store or manager performance.
Examples of dependencies could include vendor relationships (which could change by chance or choice), customer loyalty (which could turn quickly based on store leadership or food safety issues), lack of competitors (which can change when new restaurants open down the street) and even the weather ("acts of God" are unpredictable and unconcerned with your planning calendar and budget and  forecasts.)
As you can see, Head Coaches must not only execute the game plan while developing their teams, they also have to consider all the relevant marketplace conditions and dependencies in detail so that the unexpected never takes them by surprise. That's how "leading a shift"
So what elese makes up the characteristics of an outstanding GM? Here's 10 key ones…
Informed Intuition. Experienced GMs know through experience and training that if "this" occurs, then "this" is likely to happen. Informed intuition is a skill that results more from cumulative experience than training alone, and high-performing GMs learn to listen to their experienced inner voice and gut about warning signs and déjà vu feelings. They know that when things go wrong they shouldn't go with them.
Faith in their team members. When junior managers falter or fail, great GMs stay steadfast in their support and stand behind them during temporary setbacks. How many of us owe our current success to someone who believed in us when we didn't believe in ourselves? It's OK to make mistakes as long as you don't make the same ones again.
Understand the importance of "unreasonableness". Effective GMs, like successful head coaches, are "thoughtfully unreasonable" from time to time with their managers. They know that setting goals beyond their managers comfort zone builds extra capacity and higher performance in them.  Stretch everyone who works for you, and expect them to succeed. You'll find that their capacity for achievement will grow proportionately, just like exercising muscles.
Don't confuse being disciplined with being a jerk. Be tough on standards but easy on people. Never compromise on the non-negotiables of your company and brand.
Know the difference between training and mentoring. Training means putting faith in the process, mentoring is putting faith in the person.
Spare some change? The GM must keep one eye on the present and one on their crystal ball. They must be knowledgeable and insightful of not only company trends but also foodservice industry and retail industry trends. Author Jay Conger echoes the notion of leaders as change agents in an article we saw at Strategy and Business online:
"Earlier conceptions of leadership were little more than descriptions of good managership. But the emphasis has changed and radically so. Because of the enormous competitive pressures felt by most organizations, we now think of leaders as change masters. As a result, leadership training has shifted toward teaching managers and executives how to anticipate what is on their industry horizon and how to mobilize their organization to shape the future. Any training program that fails to place an emphasis on this dynamic of change is probably antiquated."
School is never out for the pro. Being so busy at "busy-ness" that you have no time to learn is a death spiral for any organization's leaders. To keep leading, GMs must keep learning. (And if you're not learning something new each day in this business, you're just not paying attention!)
Premise can control performance. Nothing will affect how you supervise someone more than your belief system about how they should—or are likely to—perform. If you have high hopes or dim hopes for your managers they are likely to perform either up to, or down to, your expectations.
Snap lethargic managers out of their routines. If you have managers who seem to have stopped learning or are stuck in a rut, here's a suggestion: swap them between stores with another manager for a week or two. Fresh eyes in both places can rejuvenate leaders and jumpstart better performance in both stores.
Make them Accountable for Success. Re-aligning your teams and culture to be results-driven is key. Teams should have a take the hill mentality and back it up with the requisite behavior.  You don't "think" yourself into a new way of acting, you act yourself into a new way of thinking.
To master the essentials of being a great leader, check out our bestselling book called  Fundamentals: 9 Ways to Be Brilliant at the New Basics of Business. And for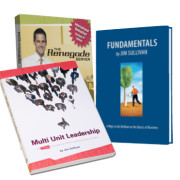 above-store leaders, be sure to check out our best-seller (used in over 170,000 businesses worldwide) called Multiunit Leadership.   Thanks!
Jim Sullivan is the CEO of Sullivision.com and a popular consultant, author and speaker at manager conferences worldwide.Copyright Sullivision.com Follow him on Twitter, YouTube or Pinterest@Sullivision