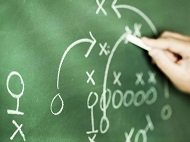 2018 Fundamentals (Our Most Popular Presentation)
9 Ways to Be Brilliant at the  New Basics of Leadership 
The FUNDAMENTALS presentation focuses on the 9 Best Practices of high-performing Foodservice and Retail companies across North America. This seminar is our most popular, with over 320 companies and 55,000 leaders participating in the workshop over the last 3 years alone!
You'll learn over 52 specific, effective and creative ways to improve Service, Sales, Costs, Marketing, Retention, Performance, People, Training, Profitability and Execution in your operations. We'll focus on the best practices of the world's best-run and most profitable foodservice and retail companies, sharing the "behind-the-scenes" insight that make their hourly employees and managers perform better, and franchisees or owner-operators earn more.
Every Fundamentals workshop is COMPLETELY CUSTOMIZED for every client. We will work closely with you to align your objectives, targets and culture into the workshop. Our customers include The Walt Disney Company, Panera Bread, Starbucks, Buffalo Wild Wings, Target, Chili's, Applebee's, Sam's Club, The Cheesecake Factory, Aaron's, Marriott, McDonald's, Pizza Hut, Supercuts, Taco Bell, and many more.
Target Audience
General Managers, Assistant Managers, Executives, Owners, Shift Leaders, Multi-Unit Managers, Franchisees and Franchise Business Consultants at Foodservice and Retail brands operations.
Format
Offered in 90 minute, 2 hour, Half-Day or Full-Day versions.
Takeaways
Operations: your audience will learn the 9 fundamental best practices that high-performing (and profitable) foodservice and retail operators use to drive higher sales and better service from their teams.
Driving Revenue: you'll learn ways to measurably increase incremental sales by at least 1%, improve service scores by 5% or more
Hiring: measurably improve the quality of crew member and manager selection. Learn how to find and select only "A" players and develop them into next-level performers.
Performance and Retention: we'll detail specific strategies and tactics that will enhance the performance of crew members and managers every shift and every quarter…and how to keep the good ones with you.
Team work: all work is team work. We'll share best practices of high-performing foodservice managers worldwide that build focused and productive teams. You'll learn the reasons why some teams outperform others doing the exact same work.
Marketing: re-think traditional marketing strategies to include tactics that acquire and maintain more customers without spending media dollars
Cost Control: we'll detail creative ways to reduce costs by 1-3% in the next 30 days
Training: the audience will learn how to get through to (not just "inform") young crew members via creative training techniques learned from the industry leaders
Execution: ideas are easy, execution is hard. This program will detail a specific roadmap for the next 14, 30, and 90 days to implement and use the ideas we learn (and share) in this dynamic presentation.
Want to check availability, get more detail on the topic, or book this program? E-mail us at info@sullivision.com Thanks!