The Art of Multi-Unit Leadership
Multiunit Leadership
They are hidden to the customer and invisible to most of their hourly staff. Yet they keenly shape and orchestrate the experience of both. Without them, VPs and CEOs would stagger and fall, but stockholders rarely know them by name. The unit managers know them, some more than others, for these invisible leaders were once managers too.
Like Batman, hidden in shadows from the customer and crew, but always alert, instinctive and ready to spring into action, the multi-unit foodservice manager or area director oversees and directs the success or failure of every restaurant chain (and multi-unit franchisee) in the world, a thousand times over, ten thousand times a day. Yet they work in near anonymity to both their guests and our industry (where are the Multi-unit Manager panels and awards?) while walking a supervisory tightrope between producing results and successfully managing a Freudian Smorgasbord of personalities. I say: all hail the Hidden Warrior; let us now stop to praise the accomplishments and assess the challenges of the Multi-unit Manager (MUM).
Talk to Multi-unit leaders as much as I do as a speaker at restaurant manager conferences around the world, and a distinct persona emerges. Most raise families and work from a home office. They are fast-thinking, numbers-crunching, paper-pushing, service-driven mobile leaders with a brain and a Blackberry as weapons of choice. They influence and shape the experience of dozens of managers, thousands of team members and hundreds of thousands of customers, yet they're required to do it by indirect influence, not hands-on control, a fantastical skill usually reserved for wizards or Fortune 500 CEOs. They embrace technology, put a premium on soft skills, and mentor the standard-bearers of Generation Next. Most learn the hard way—trial by fire—because sadly most companies invest more time and money training their cooks, servers, and GMs than they do their MUMs. In short, Multi-Unit Managers are my heroes.
Multi-unit leadership can be as down to earth as Home Plate: everything running sharp, managers leading, team focused, nobody hurt, money in the tills and every customer leaves happy. Other days, you feel like an octopus, there's a lot of motion but you can't tell if it's going to be forward, backwards, sideways or out of control. It takes a certain personality to be comfortable with chaos, uncertainty and multi-directional demands.
Our company, Sullivision.com, has embarked on a very insightful survey of Multi-Unit Managers (MUMs) at chain restaurant management and franchisee conventions. We interviewed high-performing/award-winning General Managers at those same conferences and were able to assess the types of leadership skills reflected at the unit level that point to success at the Multi-unit level as well. Here's a little of what we've learned from our research.
When you ask the MUMs what's keeping them awake at night, here's the Top 5 challenges they list:
Time Management and distance between units
Too many reports and too much data to process and manage
The right input from above and below
Meaningful store visits and General Manager coaching and development
Lack of

ongoing

personal/professional development
What's wrong with this picture?
The last two on that list—# 4 and #5—are areas where every owner, CEO, COO, or VP reading this should see a clear strategic advantage for your company. Enhance your multi-unit leadership talent by investing in resources that help them learn and grow both personally and professionally. Automate systems that choke them with paper work instead of people work. It appears that we're not investing enough time and resources into the Multi-unit leader's learning needs, coaching and development, or giving them time to do the same for the GMs they supervise. Information is good, but transformation is better.
Let's take a closer look at these challenges.
Paperwork is overtaking People Work. One thing we've heard over and over again is that Multi-Unit Managers feel that they have less and less time to spend in the stores they supervise because of paper and administrative overload. The more time they spend out of the stores at meetings and on paperwork, the less growth, guidance and support the store managers get. Hence, both the internal and external customer's experience is lessened. Why does this happen?
Time out? It doesn't surprise me that Area Directors complain about the time they have available to spend in their stores. Do the math: there's only 365 days in a year. When you subtract days off, holidays, travel days, and meeting days, you're left with about one or two days day a month that's realistically available to Area Directors to do their most important job: meaningful store visits to individual units that help develop the skill sets of your General Managers. So here's the irony question of the month: are multi-unit leaders so busy doing their job (paper and reports) that they can't do their job (people and profits)?
Meaningful store visits. What are the characteristics of an effective restaurant/store visit by a multi-unit manager? "Every store visit by a District Manager (DM) should first have a defined purpose, whether it's people, service, operations, simply reviewing previous period numbers, or some combination of the above." says Deb Jones, a foodservice VP, "Each store manager's experience, needs and operations are different, so each DM visit should be pre-planned with the necessary focus in mind." I couldn't agree more, and once you've defined the purpose of the visit, our research suggests that "Meaningful Store Visits" involve the following abilities and skillsets from Multi Unit Managers:
Know first the characteristics of your top performing stores and also your bottom performing stores
Determine what the focus of the visit is; Training? Observation? Administration? Safety and Security? Follow-up
See what's there/See what's not there in terms of operations and standards
Assess the customer's experience
Understanding the store's system, people, potential, style and realistically projecting the outcome
Suggest and detail in writing what adjustments need to be made and clearly communicate it to the store's management team
Set clear expectations, an action plan and time frames
Leave the store with energy and positive-ness; don't take it with you
Note to VPs, franchise owners and CEOs:, what you do about helping Area Managers and Area Directors get to the next level is up to you: you can do something or you can do nothing. You could invest in their education, relieve their paperwork, help them work smarter, incite their passion, and make their work a cause, not a "job". But please, do something. Not to choose is to lose.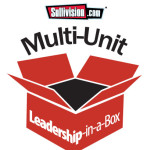 Jim Sullivan's book called Multiunit Leadership has sold over 180,000 copies worldwide, his online Multiunit Leadership development elearning program is called MultiU and the Multiunit Leadership in a Box kit (which allows you to use our slides, videos, leader's guide, learner's workbooks, research and insight to customize a multiunit leadership development course for your franchisees and Area Managers) is available at Sullivision.com You can learn more in this one-minute video: http://www.youtube.com/watch?v=Naa82NG6xOU  .